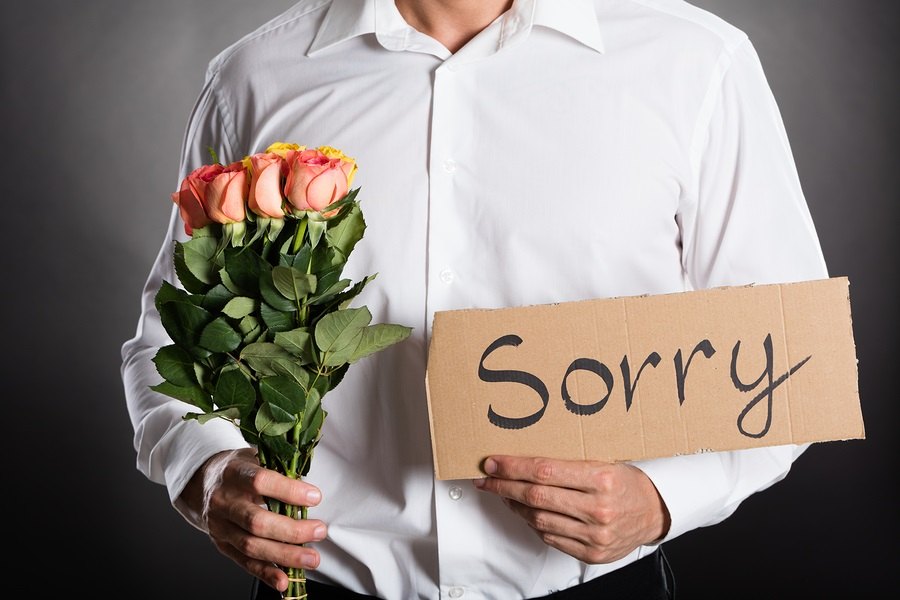 Godly sorrow brings repentance that leads to salvation and leaves no regret, but worldly sorrow brings death. 

See what this godly sorrow has produced in you: what earnestness, what eagerness to clear yourselves, what indignation, what alarm, what longing, what concern, what readiness to see justice done. (2 Corinthians 7:10-11)
There are two types of "sorrow" in life; two kinds of sorrow that lead people to say "I'm sorry."
One is a Godly sorrow that leads to life and spiritual health, and one is a worldly sorrow that leads to sickness and death.
We see the worldly sorrow all the time. It is a story all too often seen.
It usually starts like this: "I am sorry, but….." followed by an excuse for the behavior causing the offense. Or it is a sorrow that the person offended was offended, but not a sorrow over what caused the offense. (e.g. "I am sorry you did not like what I did…")
A professional sports player makes some critical comments of his team members or his coach, for example, that get printed in the media. He is forced into a public apology that goes something like this: "I am sorry my words caused hurt feelings, but I am a very competitive person and I just want to win…"
Or sometimes we get angry and we say something to the person we are angry with that we know hurts them, and we go to them later after we have calmed down and say something like this: "I am sorry for the things I said to you, but you really made me angry by [enter excuse here about why the other person caused you to be angry.]"
These are examples of worldly sorrow. In such situations we are feeling sorry for ourselves, and we excuse our behavior.
We don't want others to think badly of us, and we may even feel embarrassed by our outburst of anger, so we "apologize."
But there is no true repentance. If the same situation happens again, we are likely to react in the same way, if we cannot restrain our actions or words.
What is Repentance?
The word "repentance" does not mean that we completely change the way we act. It does not mean that we stop being "bad" and start being "good."
The word repentance actually means "to change one's mind" about something. It means we stop thinking that something we hold as true is correct, and change our mind and start thinking that it is not true, and not correct.
In the situations where we get angry and say or do things that hurt others, we need to stop thinking that we have a "right" to be angry when others hurt us or do things to make us angry.
We need to instead think and believe that our appropriate response is to love and forgive the person hurting us, seeing their needs and the reason they did what they did as more important than our own needs.
This is the way God acts, and as his children we are to act the same way. Only by changing our thinking, our beliefs, can we see a real change in behavior. Then we will truly see that what we did was wrong by God's standards, rather than excusing our behavior. Then we will be truly sorry for the way we behaved.
That is Godly sorrow.
Godly Sorrow
Godly sorrow and repentance starts with the way we think about ourselves in relation to God. If we believe that God is not fair, that he has given us a "raw deal" in life, or "bad luck," then we will tend to feel sorry for ourselves and the circumstances in our life. We see ourselves as "victims" who deserve better.
This is the worldly sorrow that leads to sickness and death.
Godly sorrow believes that God is perfect and just. It believes that we are the ones who are sinful and imperfect, and that we don't deserve anything good.
God is good. God loves with a perfect love.
He is also gracious, and gives us his love when we don't deserve it.
We are not good, because our life in these current bodies has a sin nature, and our natural tendency is to be selfish. We are the ones who have to change, and it begins with changing our thinking about God and about ourselves.
Spiritual Rebirth
The process of renewing our minds to think the things that are true about ourselves and about God, rather than the things that are false, begins with the spiritual rebirth.
Therefore, if anyone is in Christ, he is a new creation; the old has gone, the new has come!  (2 Corinthians 5:17)

Do not lie to each other, since you have taken off your old self with its practices and have put on the new self, which is being renewed in knowledge in the image of its Creator. (Colossians 3:9-10)

Do not conform any longer to the pattern of this world, but be transformed by the renewing of your mind. Then you will be able to test and approve what God's will is—his good, pleasing and perfect will. (Romans 12:2)
People who never start this process face a very dark future, when they leave their earthly bodies and face their Creator. They tend to live lives that are full of anger and bitterness, because their thinking is not true about themselves and about God. They feel sorry for themselves and completely miss out on the love that God has for them, until it is finally too late.
Is God speaking to you today? Does he want you to repent, to change your way of thinking, so that you can receive all of his love and blessings that he longs to give to you?
Are you truly sorry for the way you have lived the life he has given to you? Or are you only sorry for yourself and all the bad things that have happened to you in life – a worldly sorrow?
The worldly sorrow leads to death. Not just physical death, but spiritual death and separation from God. He is patient, and waits for you to change your mind. But that patience will some day come to an end, and it could be today!
See to it, brothers, that none of you has a sinful, unbelieving heart that turns away from the living God. But encourage one another daily, as long as it is called Today, so that none of you may be hardened by sin's deceitfulness. (Hebrews 3:12-13)

Therefore God again set a certain day, calling it Today, when a long time later he spoke through David, as was said before: "Today, if you hear his voice, do not harden your hearts." (Hebrews 4:7)
Is the Way You Think About God Healthy?
Published on May 8, 2017