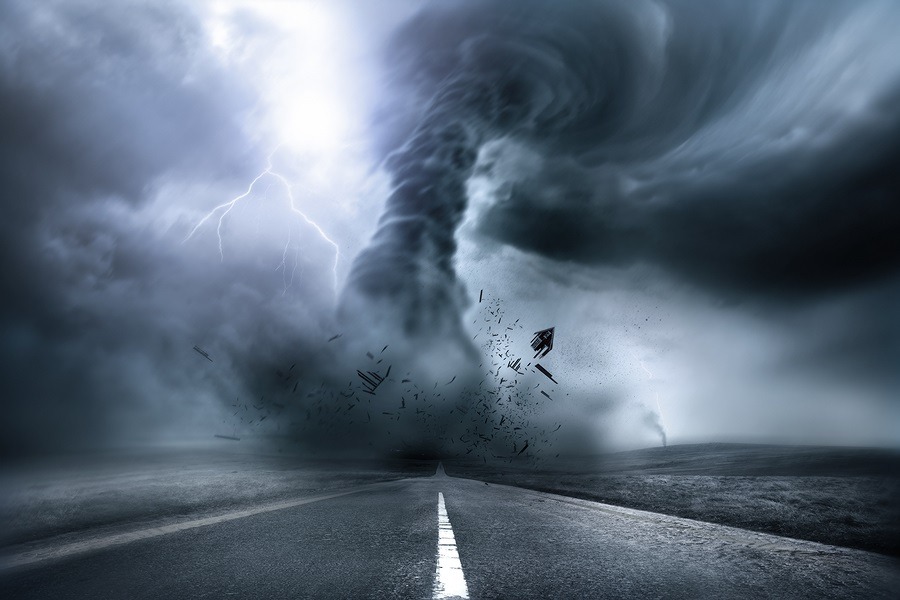 See, I set before you today life and prosperity, death and destruction. For I command you today to love the LORD your God, to walk in his ways, and to keep his commands, decrees and laws; then you will live and increase, and the LORD your God will bless you in the land you are entering to possess. But if your heart turns away and you are not obedient, and if you are drawn away to bow down to other gods and worship them, I declare to you this day that you will certainly be destroyed. (Deuteronomy 30:15-18)
In previous devotionals have looked at how the second generation of Israelites that came out of Egypt were able to finally enter in and conquer the "promised land." We saw how the first generation was unable to receive the promise because of their unbelief. The second generation, under the leadership of Joshua, was able to enter in and receive what was promised to them through their forefather Abraham, not because they were more righteous than their parents, but because they believed in God's mercy and obeyed his voice.
In the book of Deuteronomy we have recorded Moses' last words and instructions to the generation of Israelites about to enter into the promised land. He reminded them that they were God's favored people, and that they had made a commitment to serve God by promising to obey God's voice: 
You have declared today that the LORD is your God, and that you will walk in his ways, and keep his statutes and his commandments and his rules, and will obey his voice. And the LORD has declared today that you are a people for his treasured possession, as he has promised you, and that you are to keep all his commandments, and that he will set you in praise and in fame and in honor high above all nations that he has made, and that you shall be a people holy to the LORD your God, as he promised. (Deuteronomy 26:17-19)
The biggest single distinction that was supposed to exist between God's favored people, the Israelites, and all other nations, was that they were to serve him with a willing heart, and no one else. They were to seek his voice, and not the voice of other gods. The wicked nations around them, including the ones they were driving out of the promised land, practiced idolatry in turning to other gods for help.
Moses then proceeded to list both blessings and curses for the people as they would live in the promised land. Blessings if they would continue to serve God and seek his voice, and curses if they were to serve other gods (idolatry) and listen to their voices.
The Blessings:
And if you faithfully obey the voice of the LORD your God, being careful to do all his commandments that I command you today, the LORD your God will set you high above all the nations of the earth. And all these blessings shall come upon you and overtake you, if you obey the voice of the LORD your God.

Blessed shall you be in the city, and blessed shall you be in the field.

Blessed shall be the fruit of your womb and the fruit of your ground and the fruit of your cattle, the increase of your herds and the young of your flock.

Blessed shall be your basket and your kneading bowl.

Blessed shall you be when you come in, and blessed shall you be when you go out. The LORD will cause your enemies who rise against you to be defeated before you. They shall come out against you one way and flee before you seven ways.

The LORD will command the blessing on you in your barns and in all that you undertake. And he will bless you in the land that the LORD your God is giving you.

The LORD will establish you as a people holy to himself, as he has sworn to you, if you keep the commandments of the LORD your God and walk in his ways. And all the peoples of the earth shall see that you are called by the name of the LORD, and they shall be afraid of you.

And the LORD will make you abound in prosperity, in the fruit of your womb and in the fruit of your livestock and in the fruit of your ground, within the land that the LORD swore to your fathers to give you. The LORD will open to you his good treasury, the heavens, to give the rain to your land in its season and to bless all the work of your hands.

And you shall lend to many nations, but you shall not borrow. And the LORD will make you the head and not the tail, and you shall only go up and not down, if you obey the commandments of the LORD your God, which I command you today, being careful to do them, and if you do not turn aside from any of the words that I command you today, to the right hand or to the left, to go after other gods to serve them. (Deuteronomy 28:1-14)
The curses for serving other gods are found in Deuteronomy 28:15-68, and are too numerous to list here, but include:
afflictions severe and lasting, and sicknesses grievous and lasting… all the diseases of Egypt, of which you were afraid, and they shall cling to you. Every sickness also and every affliction that is not recorded in the book of this law, the LORD will bring upon you, until you are destroyed.
These curses which were the result of the people turning to and listening to other gods, were meant to draw the people's hearts back to listening to God and serving him. But continual disobedience would result in destruction, just like the example of Pharaoh (see: The Voice of God: Your Path to Healing or Suffering).
The New Covenant Blessings and Warnings
Today, we live in an age where Jesus has already come and fulfilled BOTH the covenant promise given to Abraham and the requirements of the Law given by Moses. He defeated the power of sin, which is death, by coming out of the grave with a new resurrected body.
The presentation of "life and prosperity" or "death and destruction" is still before us, but the stakes are much higher today! We don't stand before a physical kingdom here on earth (the "promised land") as the Israelites did, waiting to receive the inheritance of a physical location on earth.
Instead, we stand before Jesus' spiritual kingdom, with the offer to become co-heirs with him in that kingdom. It is an eternal kingdom, which has its current foundation in heaven:
For you have not come to a mountain that can be touched and to a blazing fire, and to darkness and gloom and whirlwind, and to the blast of a trumpet and the sound of words which sound was such that those who heard begged that no further word be spoken to them… And so terrible was the sight, that Moses said, "I AM FULL OF FEAR and trembling."

But you have come to Mount Zion and to the city of the living God, the heavenly Jerusalem, and to myriads of angels, to the general assembly and church of the firstborn who are enrolled in heaven, and to God, the Judge of all, and to the spirits of the righteous made perfect, and to Jesus, the mediator of a new covenant…

See to it that you do not refuse Him who is speaking. For if those did not escape when they refused him who warned them on earth, much less will we escape who turn away from Him who warns from heaven.

And His voice shook the earth then, but now He has promised, saying, "YET ONCE MORE I WILL SHAKE NOT ONLY THE EARTH, BUT ALSO THE HEAVEN." This expression, "Yet once more," denotes the removing of those things which can be shaken, as of created things, so that those things which cannot be shaken may remain.

Therefore, since we receive a kingdom which cannot be shaken, let us show gratitude, by which we may offer to God an acceptable service with reverence and awe; for our God is a consuming fire. (Hebrews 12:18-29)
Under this New Covenant that Jesus established, the blessings are far greater and the curses are far worse, than the blessings and curses that were under the Law given by Moses. When we disobey God's voice and serve other gods today, it results in a spiritual separation from God. Listening to God's voice and obeying it, however, results in the blessings of living in God's presence in the spiritual kingdom of Jesus.
Which will you choose today: life and prosperity, or death and destruction? If you are currently not walking in the Kingdom of Light where Jesus rules, you face a future of total destruction away from God's presence. You need to immediately change your course and come into the Kingdom of Light through spiritual rebirth.
For those who have already come into the Kingdom of Light but are not experiencing life and prosperity, is it because you are not listening to the voice of your King and obeying it? Are you following the ways of the world, and those who walk in darkness, building upon a faulty foundation which will soon be destroyed?
For no man can lay a foundation other than the one which is laid, which is Jesus Christ. Now if any man builds on the foundation with gold, silver, precious stones, wood, hay, straw, each man's work will become evident; for the day will show it because it is to be revealed with fire, and the fire itself will test the quality of each man's work. If any man's work which he has built on it remains, he will receive a reward. If any man's work is burned up, he will suffer loss; but he himself will be saved, yet so as through fire. (1 Corinthians 3:11-15)
Medicines and Physical Remedies will not Heal Spiritual Problems
While there certainly can be physical causes of sickness that can be addressed in the physical realm, we see continually throughout the history recorded in the Bible that sickness is often the result of a spiritual problem: our sin.
If the cause is spiritual, the solution and the healing are spiritual also. Seeking physical remedies will not result in healing if the problem is a spiritual problem:
Is there no balm in Gilead? Is there no physician there? Why then has not the health of the daughter of my people been restored? (Jeremiah 8:22)

Go up to Gilead and obtain balm, O virgin daughter of Egypt! In vain have you multiplied remedies; there is no healing for you. (Jeremiah 46:11)
A spiritual problem resulting in sickness needs a spiritual solution:
Is anyone among you sick? Then he must call for the elders of the church and they are to pray over him, anointing him with oil in the name of the Lord; and the prayer offered in faith will restore the one who is sick, and the Lord will raise him up, and if he has committed sins, they will be forgiven him.

Therefore, confess your sins to one another, and pray for one another so that you may be healed. The effective prayer of a righteous man can accomplish much. (James 5:14-16)
So which course are you on today: life and prosperity or death and destruction?
If you are facing health challenges today, are you seeking and obeying God's voice in the matter, or are you seeking physical remedies for spiritual problems? Are the people you consult with on health issues qualified to deal with your sins and spiritual problems?
Published on February 27, 2016