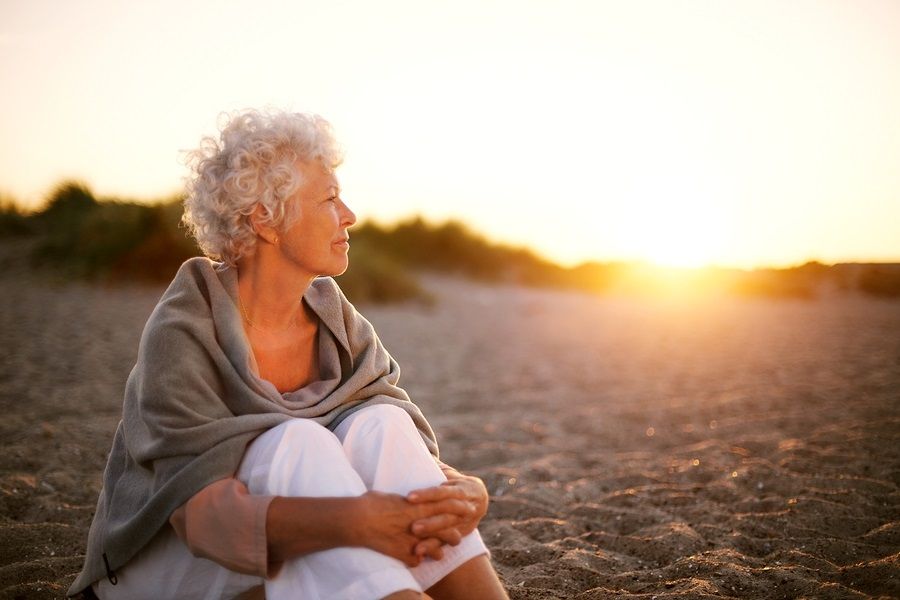 Would you like to enjoy life? Do you want long life and happiness? (Psalms 34:12)
I come across articles and advertisements quite frequently within the world of nutrition, natural foods, and alternative health that advertise or make claims to supply "long life" and happiness. There is even a whole field of science today called "longevity" which studies ways of slowing down the aging process.
While there is wisdom and good practical advice within this field, it comes up short of delivering what is promised or hoped for, because of the way our culture defines "happiness" and "long life". Happiness is usually thought of as a life free of stress and troubles, and long life is concerned only with our short (compared to eternity) life here on earth.
When you study the writings of King David in the Psalms, you learn a lot about happiness and longevity. It is interesting that the prelude to Psalm 34 does not put David safe and secure in his royal palace at the time of writing this Psalm. It puts him in that period of his life where he was constantly on the run from King Saul, who was always trying to kill him. He had to hide in caves and constantly keep moving to keep King Saul and his forces from finding him. That meant at times going to foreign countries that were enemies of Israel, and trying to convince the leaders of these countries not to kill him also. At times he apparently pretended to be insane to these foreign rulers just to protect himself. Doesn't exactly sound like a happy existence with a future, does it?
But David never defined happiness as the absence of conflicts or struggles. On the contrary, happiness was found in the midst of them. Psalm 34 gives us the keys to David's contentment in the face of life's difficulties, and he instructs us how to live a long life with happiness.
I sought the LORD, and he answered me; he delivered me from all my fears. Those who look to him are radiant; their faces are never covered with shame. This poor man called, and the LORD heard him; he saved him out of all his troubles. The angel of the LORD encamps around those who fear him, and he delivers them. Taste and see that the LORD is good; blessed is the one who takes refuge in him. Fear the LORD, you his holy people, for those who fear him lack nothing. The lions may grow weak and hungry, but those who seek the LORD lack no good thing. (Psalms 34:4-10)
When David faced difficulties in life, he turned to his Creator for help.
David had a relationship with God. He knew that God loved him, and he trusted God to take care of him through all of the junk life can throw our way!
As David ran for his life during the years Saul was trying to kill him, look at the statements of health that he wrote in the verses above. He prayed to God, and God delivered him from all his fears. His confidence in the Lord made him "radiant" and his face displayed joy instead of shame. His experiences in the presence of God are described as pleasant to his senses, as he uses such words as "taste" and "see." In his distress he did not suffer from hunger and weakness – the Lord provided for all his needs, because he looked to the Lord alone as the source of everything he desired.
The Secret to Happiness and Long Life
David enjoyed life, even in the midst of persecution and tremendous difficulties. He also wanted others to enjoy life as he did, and live long on the earth, so he wrote the secret to enjoying life and living long on the earth:
Come, my young friends, and listen to me, and I will teach you to honor the LORD. Would you like to enjoy life? Do you want long life and happiness? Then keep from speaking evil and from telling lies. Turn away from evil and do good; strive for peace with all your heart. (Psalms 34:11-14)
It is very interesting that the first thing David wrote as the key to happiness and long life is what comes off of our tongues! This is probably because our speech reflects what we believe and what is in our hearts. I have written about the healing power of words in another article.
Our tongues have the power to destroy or heal others, and according to this statement by David, it also affects our own life as well. If we are speaking things that are not true, we are out of step with our Creator and the purpose he created us.
To be happy and live a long life on earth, we need to "Turn away from evil and do good; strive for peace with all your heart."
The key to doing this is to understand that God is in control of all things, and that we don't have to take things into our own hands every time something goes wrong in life. We have to trust that God has a master plan, far above and beyond everything we could possibly know, and that we just have to trust him.
To think that life is meant to be free of troubles or concerns is a wrong perception of the truth and reality.
So many people who are chasing happiness and longevity are pursuing an empty dream of something that does not exist in this life. This produces frustration and the desire to blame other people and other things for all our troubles.
But David clearly writes here that happiness and long life are accomplished in the midst of troubles and difficulties in life, by having an attitude of trust and faith, and turning to God when we need help:
The eyes of the LORD are on the righteous, and his ears are attentive to their cry; but the face of the LORD is against those who do evil, to blot out their name from the earth. The righteous cry out, and the LORD hears them; he delivers them from all their troubles. The LORD is close to the brokenhearted and saves those who are crushed in spirit. The righteous person may have many troubles, but the LORD delivers him from them all… (Psalms 34:15-19)
So the key to happiness and long life is not the absence of difficulties, but the proper attitude and response towards them.
This attitude is much different than the world's attitude of trying to control our environment and circumstances to produce a life free of troubles and difficulties, pursuing the false dream of something that does not exist in this life. Hence, our modern day culture has replaced faith in God with faith in science, technology, and medicine, foolishly believing that these man-made objects of our faith will produce happiness and longevity. The "naturalists" are not much different, concentrating mostly on the physical realm and simply replacing technology and medicines with vitamins, herbs, etc.
But both approaches start out with the wrong presupposition about life (Darwinian evolution) and the difficulties we face in life (survival of the fittest or "advancing" in the evolutionary process), and how to deal with them, because they leave the Creator out of the discussion.
David then concludes this Psalm with this thought:
Evil will slay the wicked; the foes of the righteous will be condemned. The LORD will rescue his servants; no one who takes refuge in him will be condemned. (Psalms 34:21-22)
God has the last say. We are all mortal and we will all die a physical death and come face to face with our Creator.
Those who have depended upon God and have gone through the spiritual rebirth process will not be condemned, because Jesus was condemned in our place. Those who trust in anything besides God throughout their life will suffer the consequences.
So how you deal with life's difficulties and pursue happiness and longevity in this life also affects what happens to you in the rest of eternity!
For God so loved the world that he gave his one and only Son, that whoever believes in him shall not perish but have eternal life. For God did not send his Son into the world to condemn the world, but to save the world through him. Whoever believes in him is not condemned, but whoever does not believe stands condemned already because they have not believed in the name of God's one and only Son. This is the verdict: Light has come into the world, but people loved darkness instead of light because their deeds were evil. Everyone who does evil hates the light, and will not come into the light for fear that their deeds will be exposed. But whoever lives by the truth comes into the light, so that it may be seen plainly that what they have done has been done in the sight of God. (John 3:16-21)
Published on September 6, 2015