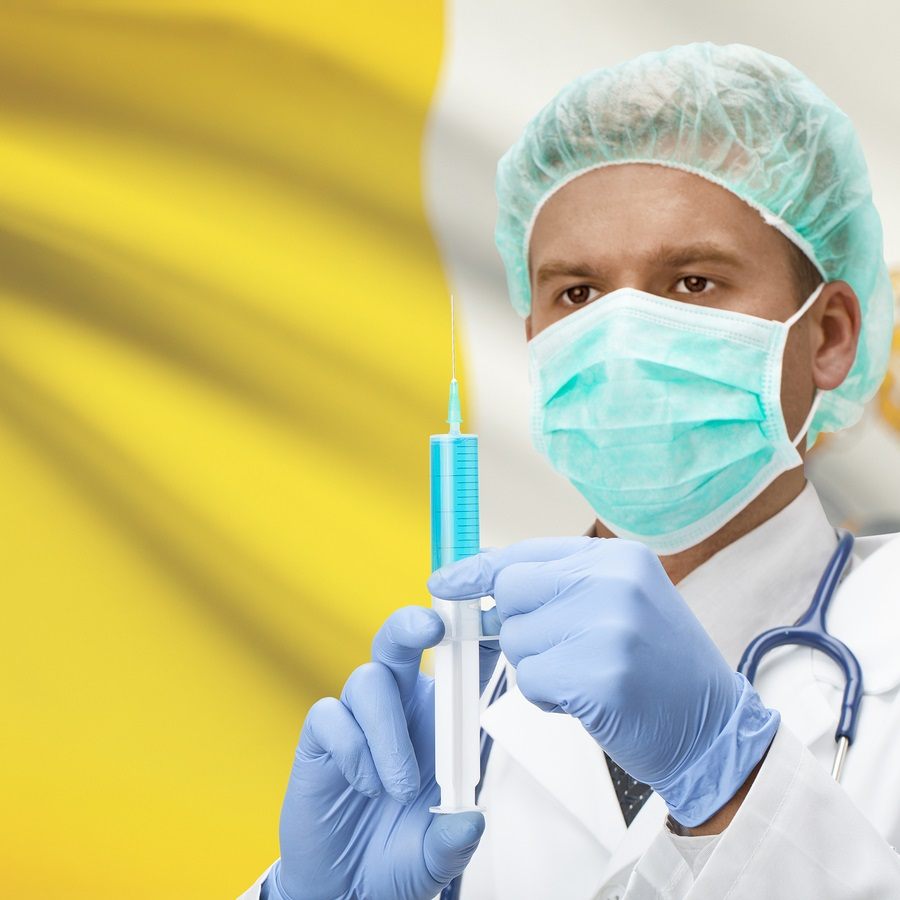 The words of King David:
O LORD my God, I cried to you for help, and you have healed me. (Psalms 30:2)

The LORD sustains him on his sickbed; in his illness you restore him to full health. (Psalms 41:3)
David is one of the most amazing people in the Bible, because he was a simple person who had a simple faith.
We have more text about David than anyone else in the scriptures, because we have both historical narrative about his life, and numerous Psalms written by David himself which give us great insight into his child-like faith.
The wonderful thing about the account of David's life that we find in the Bible is that he was a person with a lot of faults who made a lot of mistakes, just like you and I do.
He made terrible mistakes as a husband and father, with his failures clearly recorded, and at times he did not follow the Lord's leading in his life and abused his power as king.
He actually lost the kingdom for a while, and that to a rebellious son. He often blew it, just like you and I do.
But his trust was NOT in himself. It was in God's unfailing love for him.
He freely confessed his sins before God. As king, he felt it was his duty to lead the people to praising and serving God, not himself.
As he wrote in Psalms 40 after being rescued by the Lord from his enemies:
He taught me to sing a new song, a song of praise to our God. Many who see this will take warning and will put their trust in the LORD. Happy are those who trust the LORD, who do not turn to idols or join those who worship false gods. (Psalms 41:3)
King David's Illnesses
One other thing I have noticed while studying the writings of David, is that he was often sick – physically sick. The cause of his sickness is varied. Sometimes it was because of stress and attacks by his enemies (sins of others). Other times it was because of his own sin.
Many bulls encompass me; strong bulls of Bashan surround me; they open wide their mouths at me, like a ravening and roaring lion.

I am poured out like water, and all my bones are out of joint; my heart is like wax; it is melted within my breast; my strength is dried up like a potsherd, and my tongue sticks to my jaws; you lay me in the dust of death.

For dogs encompass me; a company of evildoers encircles me; they have pierced my hands and feet– I can count all my bones– they stare and gloat over me; they divide my garments among them, and for my clothing they cast lots.

But you, O LORD, do not be far off! O you my help, come quickly to my aid! Deliver my soul from the sword, my precious life from the power of the dog! (Psalms 22:12-20 – Sickness from sins of others)

Blessed is the one whose transgression is forgiven, whose sin is covered. Blessed is the man against whom the LORD counts no iniquity, and in whose spirit there is no deceit.

For when I kept silent, my bones wasted away through my groaning all day long. For day and night your hand was heavy upon me; my strength was dried up as by the heat of summer.

I acknowledged my sin to you, and I did not cover my iniquity; I said, "I will confess my transgressions to the LORD," and you forgave the iniquity of my sin. (Psalms 32:1-5 – Sickness from his own sins)
In all these circumstances where he was physically sick, he saw the cure the same way he saw the remedy for all other troubles he went through: God's unfailing love and forgiveness. He did not deal with physical problems on just a physical level, and he did not turn to "health authorities" to purchase health.
Seeking the Doctors Instead of God
Interestingly, we do have an account of one of David's descendants who became king many years later that DID deal with his physical sickness by turning to "health authorities" instead of trusting in God's unfailing love. That was King Asa.
King Asa started out as a good king, trusting in the Lord as his forefather David had. Early in his reign the Lord gave him a great victory:
And Asa did what was good and right in the eyes of the LORD his God. He took away the foreign altars and the high places and broke down the pillars and cut down the Asherim and commanded Judah to seek the LORD, the God of their fathers, and to keep the law and the commandment.

He also took out of all the cities of Judah the high places and the incense altars.

And the kingdom had rest under him. He built fortified cities in Judah, for the land had rest. He had no war in those years, for the LORD gave him peace.

And he said to Judah, "Let us build these cities and surround them with walls and towers, gates and bars. The land is still ours, because we have sought the LORD our God. We have sought him, and he has given us peace on every side."

So they built and prospered.

And Asa had an army of 300,000 from Judah, armed with large shields and spears, and 280,000 men from Benjamin that carried shields and drew bows. All these were mighty men of valor.

Zerah the Ethiopian came out against them with an army of a million men and 300 chariots, and came as far as Mareshah. And Asa went out to meet him, and they drew up their lines of battle in the Valley of Zephathah at Mareshah.

And Asa cried to the LORD his God, "O LORD, there is none like you to help, between the mighty and the weak. Help us, O LORD our God, for we rely on you, and in your name we have come against this multitude. O LORD, you are our God; let not man prevail against you."

So the LORD defeated the Ethiopians before Asa and before Judah, and the Ethiopians fled. (2 Chronicles 14:2-12)
By trusting in the Lord, Asa was able to defeat an army that was attacking him which was almost twice the size of his own army, because the Lord intervened in answer to his faith and trust in him.
But sadly, Asa did not continue to trust in the Lord.
Later on in life he had another threat to his kingdom, but this time he trusted in his wealth and the strength of alliances with other countries rather than trusting the Lord:
In the thirty-sixth year of the reign of King Asa of Judah, King Baasha of Israel invaded Judah and started to fortify Ramah in order to cut off all traffic in and out of Judah.

So Asa took silver and gold from the treasuries of the Temple and the palace and sent it to Damascus, to King Benhadad of Syria, with this message: "Let us be allies, as our fathers were. This silver and gold is a present for you. Now break your alliance with King Baasha of Israel so that he will have to pull his troops out of my territory."

Benhadad agreed to Asa's proposal and sent his commanding officers and their armies to attack the cities of Israel. They captured Ijon, Dan, Abel Beth Maacah, and all the cities of Naphtali where supplies were stored.

When King Baasha heard what was happening, he stopped fortifying Ramah and abandoned the work.

At that time the prophet Hanani went to King Asa and said, "Because you relied on the king of Syria instead of relying on the LORD your God, the army of the king of Israel has escaped from you. Didn't the Ethiopians and the Libyans have large armies with many chariots and cavalry troops? But because you relied on the LORD, he gave you victory over them. The LORD keeps close watch over the whole world, to give strength to those whose hearts are loyal to him. You have acted foolishly, and so from now on you will always be at war."

This made Asa so angry with the prophet that he had him put in chains. It was at this same time that Asa began treating some of the people cruelly. (2 Chronicles 16:1-10)
Then came his physical disease:
In the thirty-ninth year that Asa was king, he was crippled by a severe foot disease; but even then he did not turn to the LORD for help, but to doctors. Two years later he died… (2 Chronicles 16:12-13)
Maybe the doctors were able to manage his disease for a couple more years before he died, but they apparently were not able to heal Asa using whatever healing arts they performed and sold to the king.
On the spiritual level, King Asa did not turn to the Lord for help. He died in failure.
Who Do You Run to First When You are Sick?
Who do you run to first when you are sick? Who do you trust to bring you healing? Do you seek first the Creator of the universe who made you and knows you better than anyone else, or do you turn first to "health experts" who may or may not know you, and who can usually only deal with health on a physical level based on human knowledge?
Do you willingly pay huge sums of money to these "health experts" for access to their limited knowledge? Who do you trust the most?
As we noted in a previous devotional, physical death is a certain event in your life, and simply trying to delay that event will not deal with the more important spiritual issues in your life that will carry you into eternity.
Like David, we don't have to be good people to call upon God in our weakness. We simply need to trust that God created us, that he put us on this earth, that he loves us, and that when we call upon him he hears us and takes care of us, just like David did – over and over again.
And if you feel overwhelmed by your sickness or problems and think you don't have enough faith to trust God, find others who have faith and ask them to pray for you! That is your first step to healing.
Is anyone among you suffering? Let him pray. Is anyone cheerful? Let him sing praise. Is anyone among you sick? Let him call for the elders of the church, and let them pray over him, anointing him with oil in the name of the Lord.

And the prayer of faith will save the one who is sick, and the Lord will raise him up. And if he has committed sins, he will be forgiven. Therefore, confess your sins to one another and pray for one another, that you may be healed. The prayer of a righteous person has great power as it is working. (James 5:13-16)
Related articles:
What is Your Attitude towards Sickness?
Who is Responsible for Providing Healthcare?
What is the Purpose of Your Sickness?
Published on June 24, 2017